HONORARY DOCTORATE OF SCIENCE TO DR. S. S. IYENGAR [link]
Poznan University of Technology (PUT), Poznan, Poland, bestowed an Honorary Doctorate of Science to Dr. S. S. Iyengar, Distinguished University Professor and Ryder Professor of the Knight Foundation School of Computing & Information Science. To formally make this announcement to FIU's leadership, a delegation of high-ranking university officials, including Rector Professor Teofil Jesionowski, PUT, and Rector Professor Jerzy Lis, AGH University of Science and Technology (AGH UST), Cracow, Poland, who was the reviewer of the honoris causa Ph.D., visited FIU on Thursday, January 19, 2023. The formal conferral of the honorary degree took place at Poznan University of Technology in Poland on May 25, 2023.
As a globally engaged university, this prestigious recognition demonstrates Dr. Iyengar's 5 decades of profound and enduring contributions to scholarship, science, and improved quality of life in society beyond our national borders. It acknowledges Dr. Iyengar's scientific advancements in the area of high-performance sensor fusion, digital forensics, design and analysis of efficient algorithmic techniques for various applications and continuous collaboration with NSF, DOD agencies, universities across the world including PUT, where Dr. Iyengar served as a Fulbright Specialist in 2019. For details on his contributions, awards, students supervised and fellowships from various societies,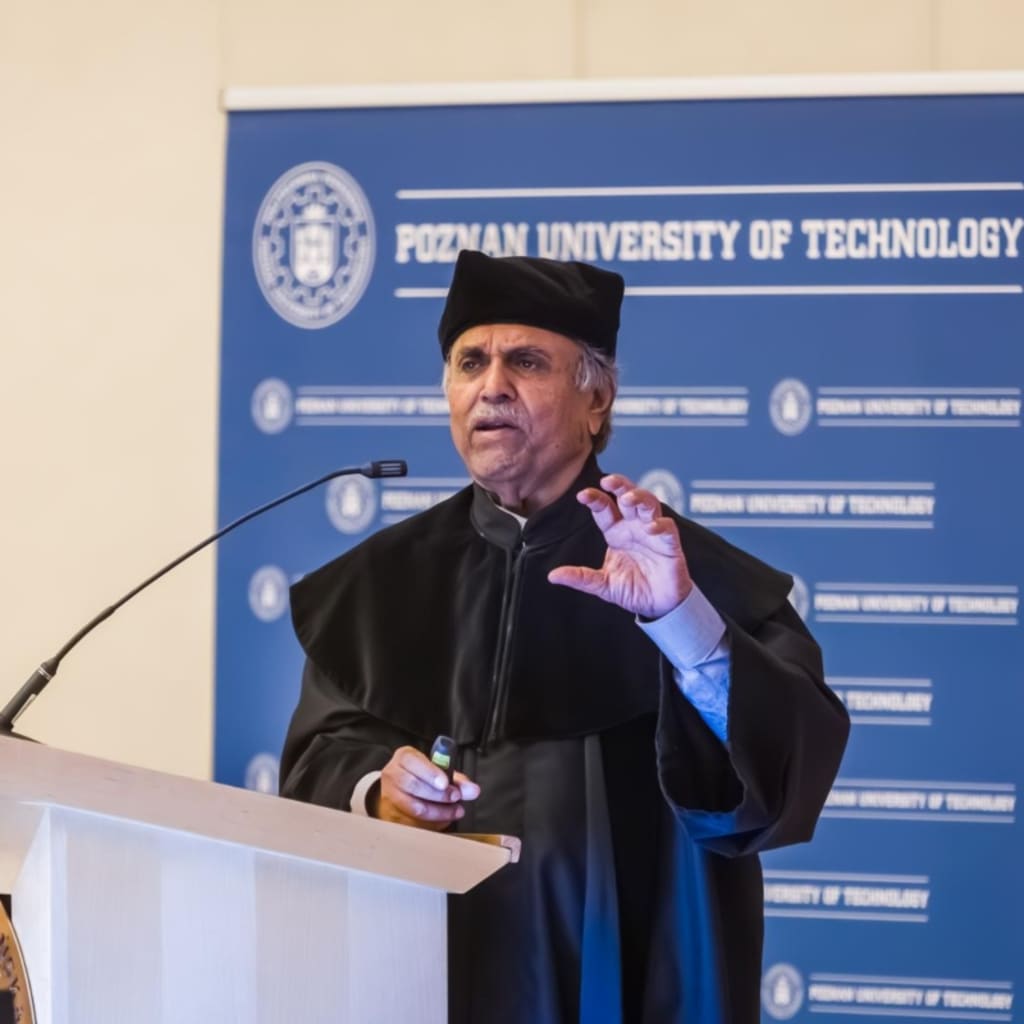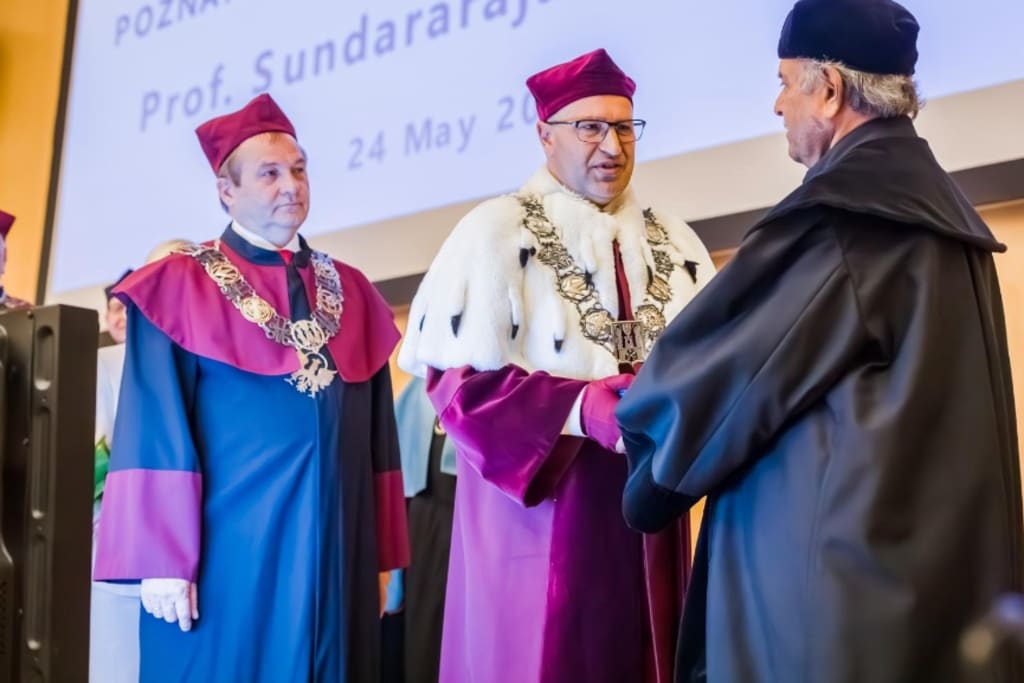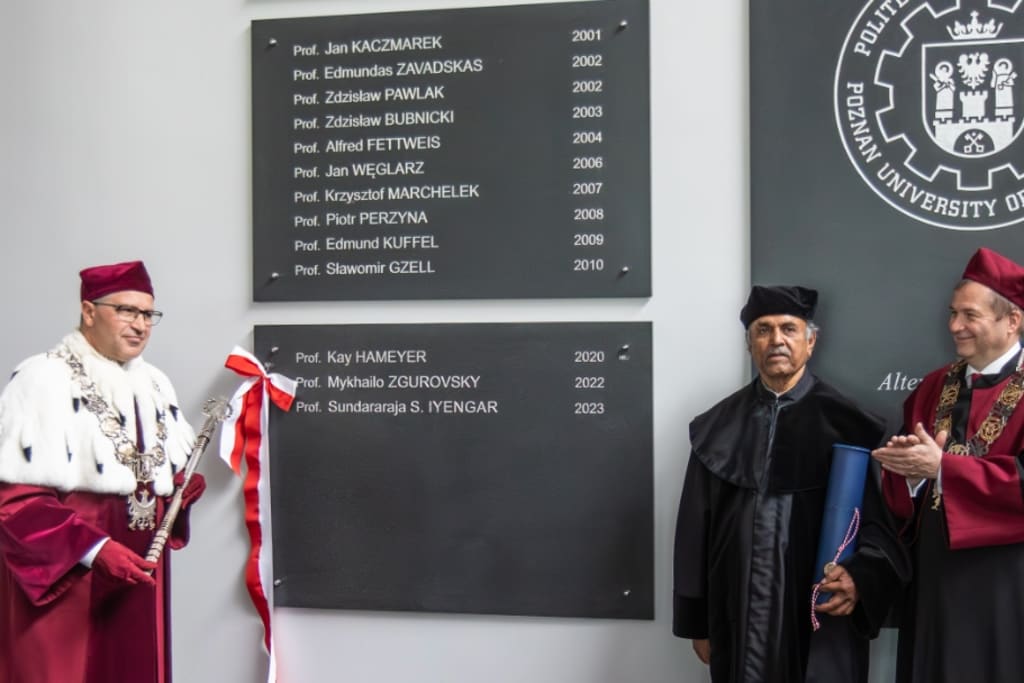 ====================================================================
Dr. Iyengar's Research
His Research work was shown on the Discovery Channel, History Channel, Local ABC news affiliates (WBRZ News), Fox TV channel (Fox 44 WGMB), Youtube and Major news outlets (LSUReville, The Advocate) around the world, over 60 million homes distributed worldwide (Russia, Korea, Europe, China, India etc.)
One of Dr. Iyengar's Students Brian Obe's love of digital artistry emerged in 1990 with a visit to LSU robotics research laboratory where he was introduced to many techniques and that ended him getting an animation award at the 78th Academy Awards.
One of Dr. Iyengar's project along with Dr. Phoha (LA Tech) and Dr. Kannan (LSU) entitled "Fast Page Allocation on a Server Using Self-Organization Properties of Neural Networks" was selected to be the World's Best Technology Showcase in the year 2007. This is a highly competitive summit and other companies were Alos Alamos National Labs, John Hopkins University, EPS, NASA and many others.
---
Nov. 2-3 2017: Keynote Speaker at NASSACOM. Talk title: "How much of the promise of AI is true, how much is hype? What is the threat to existing products? How can product managers leverage the opportunities?".
July 20-21, 2017: Keynote Speaker at the 3rd International Conference and Business Expo on Wireless & Telecommunication. Talk title: "Impact of Brooks-Iyengar Distributed Sensor Network Algorithm for the Next Decade".
Dec. 5, 2016: New device could save glaucoma patients' eyesight
Feb. 25, 2016: Risk of Not Destroying Your Boarding Pass After Flying
Aug. 26, 2015: FIU unveils its new Tech Station
March 4, 2013: Dr.Ray Kurzweil is giving a distinguished talk at FIU and Dr.iyengar is moderating the session, The title of the talk: "The Acceleration of Technology in the 21st Century: The Impact on Business, the Economy, and the Society."
June 2012 (Harbor Style Magazine)Page 77: Funding The Dream and Third Place award of Innovation2Industry
Januar 3, 2011(Deccan Herald): Distinguished Alumnus Award, University Visvesvaraya College of Engineering
June-28- July 2, 2010: Indo-US Workshop in Chittoor, India
July 21, 2010: ICMCBIR-2010 PES
July 29-31, 2010: ICCCNT-2010 Chettinad
Sep 3, 2005: India Times – IISc Alumni
March 4, 2003: IISc Alumni
Dec 24, 2002: Distributed Sensor Networks
May 19, 2002: Tracking Terrorists
June 28, 2002 (Deccan Herald): Satish Dhawan Professorship
July 4, 2002 (Indian Express): Satish Dhawan Professorship
Dec 14, 2001 (Deccan Herald): ACM Fellow
June 28, 2001 (LSU Reveille): Enron
Feb 22, 2001 (LSU Today): LSU Computer Science Department
Jan 14, 1995 (Deccan Herald): Robots
May 13, 1994 (LSU Reveille): Navy Grants
1994 (LSU Reveille): IEEE Fellow